Malaysia ADEX commentary and forecast
Malaysia saw its 5th consecutive year of declining Adex in 2018, with a 2.5% yoy decline vs. 2017. As a result, Malaysia adex dipped under the RM 5 billion mark for third consecutive year since 2016.
FY 2018 ADEX Report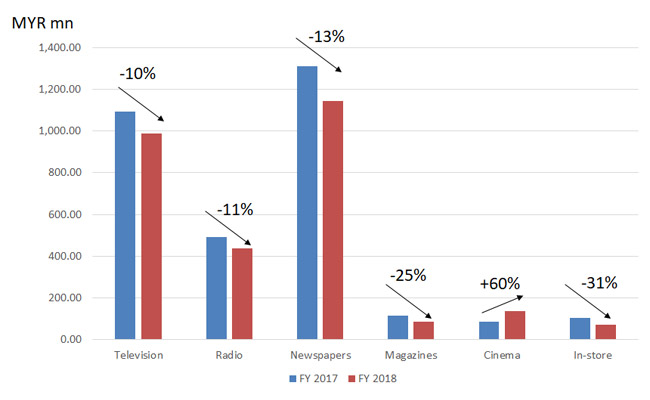 2018 ADEX Provisional: MYR 4.48Bn
2017 ADEX Provisional: MYR 4.59Bn

Multi-Year Trend Chart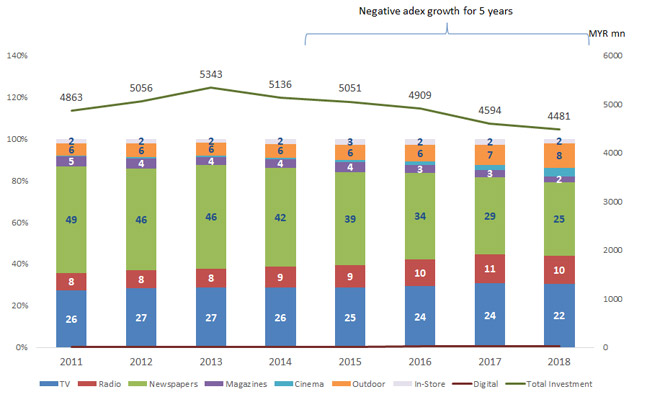 In 2017, the only media to experience significant increases in adex were Digital and Cinema, with Digital growing most aggressively at 18% p.a.
Digital share of adex overtook TV share of adex at 2018.
Adex does not increase with the event of General Election 14, FIFA World Cup, Commonwealth and Asian Games. Newspaper no longer a main choice for advertisers during General Election. Radio adex is expected to fall 7.8% partly due to loss of audience (Nielsen).
Global Advertising overview 2018 and forecast 2019
Our new forecast for 2018 advertising investment growth is 4.3% and for 2019 3.6%.
Digital media investment will rise 12.6% in 2018 and 9.7% in 2019, much as before, with digital's share of ad investment rising from 39% this year to 42% in 2019.
The other big focus is, of course, traditional TV, where we expect minimal growth of 1.2% in 2018 (prior prediction 2.2%) and an almost unchanged 1.1% for 2019.
Among the smaller media, radio is slowly losing share of measured media investment, but measurement is not good at capturing ads in streams.
Out-of-home is similarly fighting to maintain share, which it has sustained at around 6% since the millennium.
Source from: GroupM